OSL contemporary is proud to present a new exhibition by Ane Mette Hol, opening September 28, 18.00-20.00.
Saturday 28 October, 13.00-14.00, OSL contemporary is delighted to host an OSL series, Artist Talk & Reading in relation to Ane Mette Hol's current exhibition. A conversation between Ane Mette Hol and curator Erlend Hammer, with an introduction by author Hans Petter Blad. For more information, please follow the link to the event.
*Norwegian text below
---
Portrait Likeness

Paradoxically, even though they appear as opposites at first glance, Ane Mette Hol's diverse works can be compared to Diego Velázquez's paintings. The Spanish court painter's kings and queens, dwarves, and jesters precisely mirror Hol's cardboard boxes and tape measures, packaging, and labels. Her art is a portrait art of objects. However, recognition can be problematic. It has been said that Philip IV recoiled in fear when confronted with one of the portraits Velázquez painted of him: He initially thought it was a mirror. Similarly, we instinctively recoil from recognition when confronted with Hol's works, before approaching them again, perhaps more cautiously.
When we classify Hol's drawings of cardboard boxes and pastel dust as portraits, it is with the conviction that we are seeing a representation of the faces of things. The captured expressions of the small and significant objects, at least that is our working theory.

Ane Mette Hol then raises her hand majestically. "This," she says, pointing at a spot on a large sheet of paper stapled to the wall, a mark the size of a thumbnail, "I've drawn that maybe ten times to get it right."
Anyone who has drawn a portrait knows that a drawing that doesn't resemble the subject can be transformed with the tiniest alteration, an added line, a millimetre-sized mark among millions that creates the likeness, causing the observer to exclaim in wonder, "Now it looks like it." This solitary, singular mark, this "resemblance," is what she captures and multiplies in the massively scaled up drawing of pastel dust. From her studio, the Akerselva can be glimpsed behind the dense thicket of young birch trees when they are caught in the wind and seen against a low, grey sky. Especially now, after a frighteningly hot and rainy summer, the river gives associations to a film roll on its way through a projector.

Ane Mette carries new drawings from "the remnants of a drawing" through the room, with slow and majestic caution. It serves as both palette and motif, as well as finished work.

This could easily have been a very different story only a few months ago. A bicycle accident almost permanently damaged her left hand. October last year, slippery, rain-soaked roads. It's not hard to imagine what happened during the fall from the bike: the drawing hand, up in the air, on its way to the asphalt, jerks back, and the non-drawing-hand takes the full impact and nearly shatters upon meeting the asphalt.

A portrait is more than just the face. What is being portrayed in a life-sized painting of the Spanish king is not immediately apparent. Anyone observing Felipe IV de castaño y plata will barely notice the face, which is almost tediously familiar from numerous previous portraits of the king, since it is most of all a portrait of clothing, as described in the title, "chestnut brown and silver."
The painting, with the king standing at a table, was created between 1631 and 1635, and you can easily imagine the many hours, or perhaps minutes, the artist and model spent on the practical work. Not like Lucian Freud, where the model must be present in its entirety, even when painting the background, the wall, the door, or the window.
There is also a profound contrast between how the garment is created, hour after hour in dim light, where the silver thread must have been almost like a path in the darkness encompassing the seamstresses, and the painter's irritable and rapid strokes. Under the characteristic face, with its sad eyes and deeply melancholic moustache, and behind a gloved hand limply holding a sheet of paper or a stack of sheets, a book, or several letters, where the artist has chosen to place his signature, the real motif of the painting can be seen. Not even the clothing, but the fabric the clothing is made of (studied up close, it can be reminiscent of Jackson Pollock's Brown and Silver I, hanging across the street, Paseo del Prado, at the Museo Nacional Thyssen-Bornemisza).

Just as the silver threads indirectly depict colonialism and the recording of the world, the drawing dust and packaging, and the often invisible transition between drawing and photography, are a representation of how man-made objects now, for the first time in history, have become more significant than us, the living. Things reign over our lives in a more definite way than the close friends, relatives, and loved ones who surround us. The primacy of things is irrevocable. The Escorial Palace (with its vast burial chambers) and the gallery space (such as OSL contemporary), where the artworks truly come to life and engage in dialogue with each other when the room is devoid of people all seem to question humanity's place in the picture.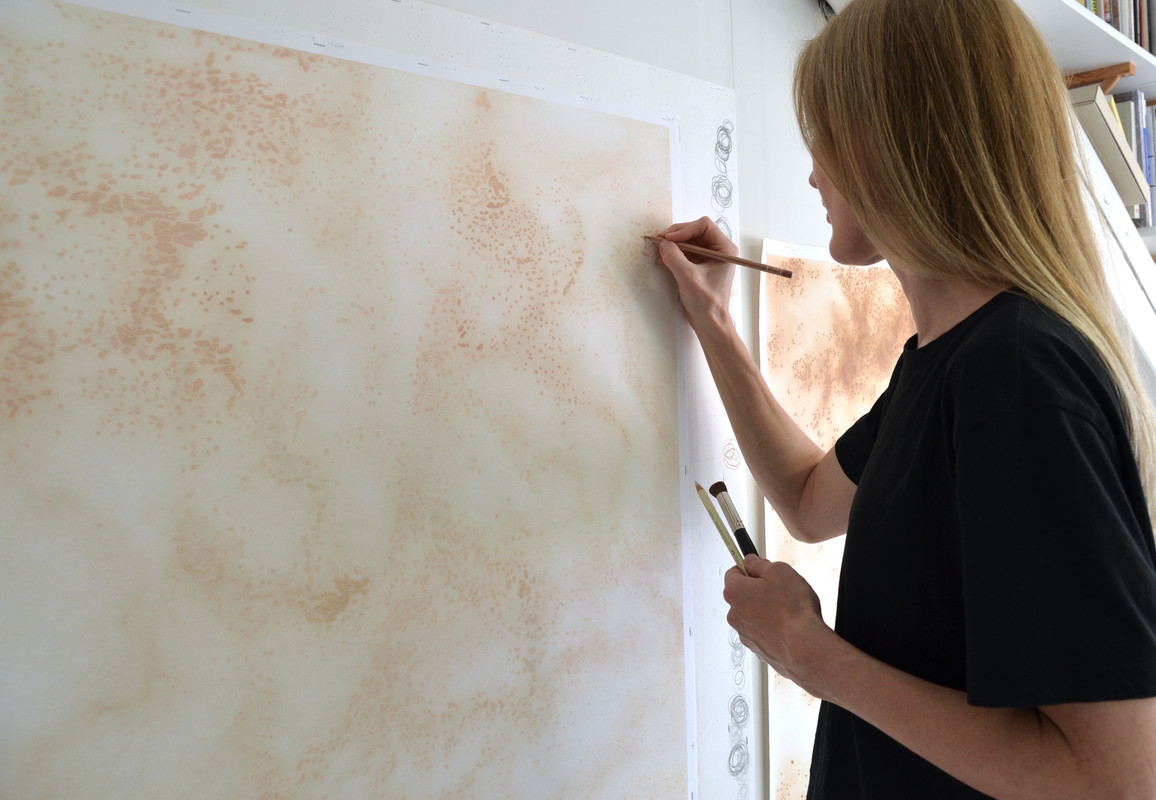 Two women play tennis in the Luxembourg Gardens; Pierrot buys a multitude of books in a book shop called The Best of the World, most probably on the Left Bank. In the next scene, the Seine lies impenetrably dark under a dull evening sky; in the bathtub lies the eponymous Pierrot (played by Jean-Paul Belmondo) with a book in his hand, reading—it's his voice we've heard all along, repeating the words of art historian Élie Faure, with his daughter as a spectator and an echo of the ladies-in-waiting.

"The world he lived in was sad," says Pierrot, Belmondo, Godard about Velázquez.
For the originator, Élie Faure, no one, since the Greeks, has created as striking an illusion of reality as Velázquez. But towards the end of his life, imitation was replaced by an equally precise representation of unreality. Élie Faure was originally trained as a doctor, specialising in both anaesthesia and embalming. Velázquez spent most of his life as an artist imitating reality, yet:
"Velázquez, past the age of fifty, no longer painted specific objects. He drifted around things like the air, like twilight, catching unawares in the shimmering shadows the nuances of colour that he transformed into the invisible core of his silent symphony." [1]

The final corrections, before the five large drawings are complete, are made with an eraser. The eraser is a large, shapeless blue mass, formed by the hand that erases; the drawing hand that both creates and annihilates. She finds herself in the midst of the drawing dust, reduced to a dwarf under the regime of magnification, seeing tiny spots face to face. Mary Shelley's Frankenstein or a golem: She breathes life into the dust. She erases invisible signs of "lifelessness" from spots of light brown, black, swimming pool blue, and a red reminiscent of boiled crab shells. The colours are chosen for reasons other than aesthetics; they belong to the genetic heritage of the artworks, just as straw-coloured hair and slender limbs characterise the artist.

A film projector sits in the middle of a table, triumphant like a horse sculpture in a prominent place of a capital city. This time, I get to watch the film myself and automatically become both projectionist and audience. I hold the film roll up to the light while Ane Mette explains, like the voiceover in an imaginary feature film. The subject is staggeringly simple: the artist's fingerprints on the film roll. Holding the images up to the light gives the same feeling as watching Kubrick's hominid, the human ape, angrily hurl a bone into the sky, which by the magic of a cosmic cut in time "becomes" a spacecraft and brings us into the future. This is When Identity Remains Abstract from 2016.
It's so simple that it's hard to explain. The artist, Ane Mette Hol, has drawn her own fingerprint on the film itself by scratching off the emulsion. And with that, she poses the question, what is a fingerprint? A signature, a self-portrait, a sign of individuality? Or the classic "trace" in the nomenclature of crime?

A drawing of an envelope and an address label, identically copied, with her own address drawn in the middle of the perfectly reproduced envelope can lead our train of thought both to the criminal and, again, to Velázquez. It is a well-known feature of classical painting to use letters, sheets, contracts, or other documents placed in the model's hand to position the artist's own signature. As if a correspondence between us and the alien other can be created through the mark of a name, between her reproduction of an envelope from 2023 and Velázquez's Felipe IV de castaño y plata concluded in 1635, the address label and the Spanish painter's rare signature on his own artworks.

The hand, not just the fingerprint, appears in another more recent film. And perhaps the accident explains the artist's fascination with the hand as a motif; that is, the X-ray image of the hand, the inside of the hand, the almost ruined life, both as a drawing and as the main character. Both the drawing and the film are based on an E-scan of Hol's right hand. Or Female Right Wrist, as the laboratory labelled it, which also became the title of the work (from 2023).
The origin of the picture lies in a pain Ane Mette Hol struggled to understand, perhaps a fear of losing her drawing hand.
The plastic sheet with X-ray images is shredded by hand and given the width of a film reel. This was then run through a Catozzo 16 mm film splicer, a small machine from the time when editing tables were used. Three sheets of X-ray images became a total of 30 metres of film, looping and showing the inside of the right arm, and we see through the bone, or into the bone. Almost like a bird's eye view.

In Las meninas we see Velázquez, with the paint brush in his right hand and the tilted palette in his left, constituting the actual centre of the paintings. Ane Mette Hol has further reduced this meta perspective by making the right hand both the subject and the tool that performs the action. The hand has been elevated to motif and has thus been separated from its sister hand, the left hand, which within the four walls of the studio has had a completely different status.
The right hand draws and draws, while the left hand, like an anachronistic, stay-at-home 1950s housewife, must support and applaud the hardworking, canonized right hand.
In dialogue with the actual X-rays, sent through the projector, Hol has drawn the E-scans that depict the hand in the opposite direction, cut crosswise, not lengthwise as in the film. In total, there are 15 drawings, all sharing the common trait that they didn't provide an answer as to why she was in pain, other than that we, just like the doctors and the artist herself, can imagine that it has to do with her work as an artist.

Ane Mette Hol speaks as she draws, defending her left hand.
"I'm almost as dependent on the left—although maybe it doesn't have the same meaning or status because it's not dominant.
"People said to me 'Luckily, it was your left hand,' which I also thought myself, of course, but I'm almost as dependent on the left hand, even though it doesn't have the same elevated status."
The Order of Things by Michel Foucault is a depiction of humankind as "a side effect of the modern world's reorganization of cognition." [2]
Ane Mette Hol's artistry can be interpreted in light of Foucault's analysis. Her artworks, in direct continuation of the French philosopher, make "the thousand-year-old enforcement of the distinction between the Same and the Other waver." In her oeuvre, we become more and more one with the things around us, and their machine-made precision gives us, the spectators, a sense of being vague, nondescript, captured by the artist at a point in history where it is uncertain whether we are disappearing or being recreated.

It should be added, for the sake of clarity: Ane Mette Hol is, of course, very much alive and kicking as a conceptual artist, whose ideas are deeply rooted in contemporary ways of thinking and our particular lifestyle in Oslo, at Frysja, in her studio, on the outskirts of the civilizational conceptualisation that, for better or worse, is ours. This, as I have attempted to show, doesn't mean that, for example, the Baroque period can say anything specific about her artistry that doesn't apply to all other living artists.

Oslo, 3 September 2023

- Written by Hans Petter Blad (translated from Norwegian)
---
Ane Mette Hol (b. 1979, Bodø) works conceptually with drawing and investigates the relationship between the original and the reproduction. At first encounter, Hol's works appear as readymade, seemingly indistinguishable from the industrially mass-produced objects. Hol, however, creates two and three-dimensional drawings that uncannily reproduce the texture, material and tactility of the objects.
Ane Mette Hol lives and works in Oslo. She is educated at the National Academy of the Arts and Stockholm University College of Arts, Crafts and Design. Hol has exhibited widely in Norway and internationally at institutions such as Mumok, Vienna; La Kunsthalle Mulhouse; Städtische Galerie, Delmenhorst, Trondheim kunstmuseum, Trondheim; Galerie im Taxispalais, Innsbruck; Kunstmuseen Krefeld, Krefeld; Ludwig Forum Aachen, Aachen; Kunsthall Trondheim, Trondheim; La Centrale, Brussels; Mostyn, Wales; Tallinn Art Hall, Tallin; Sørlandets kunstmuseum, Kristiansand and the Astrup Fearnley Museet, Oslo.

Her work is represented in the collections of the National Museum of Art, Architecture and Design, Oslo; KODE Art Museum, Bergen; The Kistefos Collection, Oslo; Trondheim kunstmuseum, Trondheim; Sørlandets kunstmuseum, Kristiansand; Städtische Galerie, Delmenhorst and Le Centre Pompidou, Paris.
Hans Petter Blad (b. 1962, Oslo), writes novels, poetry, plays and essays. He is currently working on a non-fiction book about Augusto Pinochet's 503 days spent under house arrest in the UK, and a novel about dressage and equestrianism.

---
The exhibition is supported by the Visual Artists Compensation Fund (BKV) and Arts and Culture Norway.
And thanks to Anton Benois. Kunstnerassistentordningen with support from Arts and Culture Norway.
---
Portrettlikhet
Paradoksalt nok, siden de ved første øyekast framstår som motsetninger: Ane Mette Hols mangslungne verk kan sammenlignes med Diego Velázquez' malerier. Den spanske hoffmalerens konger og dronninger, dverger og gjøglere, de speiler presist Hols pappesker og målebånd, emballasje og etiketter. Hennes kunst er en gjenstandenes portrettkunst. Men gjenkjennelse kan være problematisk. Det sies at Filip IV rykket skremt tilbake i møte med et av portrettene Velázquez malte av ham: Han trodde første det var et speil. På samme måte rygger vi ved intuitivt vekk fra gjenkjennelsen i møte med Hols verk, før vi nærmer oss på nytt, kanskje mer forsiktig.
Når vi klassifiserer Hols tegninger av pappesker og pastellstøv som portretter, er det med en overbevisning om at det er en representasjon av tingenes ansikt vi ser. De små og signifikante gjenstandenes fastholdte mimikk. Det er i hvert fall tesen vi arbeider etter.
Så løfter Ane Mette Hol hånden majestetisk. «Den», sier hun og peker mot et punkt på et store ark festet til veggen med stifter, en flekk på størrelse med en negl, «den har jeg tegnet kanskje ti ganger, for at den skulle bli riktig gjengitt».
Alle som har tegnet et portrett vet at en tegning som ikke ligner bare ved en ørliten forandring, en strek som legges til, en millimeter stort tegn blant millioner er det som skaper portrettlikheten, og som får tilskueren til forundret å utbryte, «nå ligner det». Dette enslige, singulære tegnet, dette «som ligner» er hva hun fanger og multipliserer i det flere ganger forstørrede tegne- eller pastellstøvet.
Fra atelieret hennes kan Akerselva skimtes bak det tette buskaset unge bjerker utgjør når de fanges i vinden og ses mot en lav, grå himmel. Spesielt nå, etter en skremmende varm og regnfull sommer, gir elven assosiasjoner til en filmrull på vei gjennom en framvise. Ane Mette bærer nye tegninger av «restene av en tegning» gjennom rommet, i langsom og majestetisk forsiktighet. Det er både palett, motiv og ferdig verk.
Det var ikke gitt, bare for noen måneder siden. En sykkelulykke medførte at venstrehånden nær ble ødelagt for alltid. Oktober i fjor, glatte, regnvåte veier. Det er ikke vanskelig å se for seg hva som har skjedd under fallet fra sykkelen: Tegnehånden, i luften, på vei mot asfalten, rykker tilbake og venstrehånden, ikke-tegne-hånden, tar hele støtet og nær knuses i møte med asfalten.
Et portrett er mer enn ansiktet. Nå er det heller ikke opplagt hva som portretteres i et legemsstort maleri av den spanske kongen. Den som ser Felipe IV de castaño y plata legger knapt merke til at ansiktet, som er nesten kjedsommelig velkjent fra en lang rekke tidligere portretter av kongen, for det som i tittelen karakteriseres som i «kastanjebrunt og sølv» mest av alt er portrett av en klesdrakt.
Bildet, kongens stående ved et bord, er malt mellom 1631 og 1635, og en kan lett forestille seg hvor mange timer, eller kanskje minutter, kunstneren og modellen har delt i det praktiske arbeidet. Ikke som hos Lucian Freud, der modellen må være til stede med hele seg, selv når bakgrunnen, veggen, døra eller vinduet, males.
Det er også en dyp kløft mellom hvordan drakten er skapt, time etter time i skumt lys, der sølvtråden må ha vært nesten som en sti i syerskenes mørke, og malerens irritable og raske strøk. Under det karakteristiske ansiktet, med sine triste øyne og dypt melankolske mustasjer, og bak en hanskekledd hånd som kraftløst holder om et ark, eller en bunke med ark, en bok eller flere brev, der kunstneren har valgt å plassere sin signatur, ses maleriets virkelige motiv. Ikke en gang klesdrakten, men det stoff klesdrakten er lagd av (studert på nært hold kan minne om Jackson Pollocks Brown and Silver I, som henger på andre siden av gaten, Paseo del Prado, på Museo Nacional Thyssen-Bornemisza).
Slik sølvtrådene indirekte skildrer kolonialismen og opptegnelsen av verden, vil tegnestøvet og emballasjen, og den ofte usynlige overgangen mellom tegning og fotografi være et bilde på hvordan menneskeskapte gjenstander nå, for første gang i historien, veier mer enn oss levende. Tingene hersker over våre liv på mer bestemt vis enn våre nærmeste, venner, slektninger og kjærester vi omgir oss med. Tingenes forrang er ugjenkallelig. Slottet i Escorial (med sine veldige gravkammer) og gallerirommet (eksempelvis OSL Contemporary), der kunstverkene først framstår som egentlige og i dialog med hverandre når rommet er romt for mennesker, alt synes å stille spørsmål omkring menneskets plass i bildet.
To kvinner spiller tennis i Luxembourghagen; Pierrot kjøper en mengde bøker i bokhandelen ved navnet Det beste fra hele verden, ganske sikker på Rive gauche. I neste bilde ligger Seinen ugjennomtrengelig mørk under en matt kveldshimmel; i badekaret ligger den eponymiske Pierrot (spilt av Jean-Paul Belmondo) med en bok i hånden og leser, det er hans stemme vi har hørt hele tiden, gjenta kunsthistorikeren Élie Faures ord, med datteren som tilskuer og ekko av hoffpikene.
«Verden han levde i var trist», sier Pierrot, Belmondo, Godard om Velázquez.
For opphavsmannen, Élie Faure, har ingen, siden grekerne, skapt en like slående illusjon av virkelighet som Velázquez. Men mot slutten av livet skulle etterligningen erstattes med en like presis representasjon av uvirkelighet. Élie Faure var opprinnelig utdannet lege, spesialist både på anastesi og balsamering. Velázquez brukte de mesteparten av livet sitt som kunstner på å imitere virkeligheten. Men:
«Etter femti år, malte Velázquez aldri en bestemt gjenstand igjen. Han drev omkring gjenstandene med luften og skumringen, i skyggene og gjennomsiktigheten til det innerste overrumplet han de kolorerte slagene som han gjorde til sin stille symfonis usynlige sentrum».[1]
De siste rettelsene, før de fem store tegningene er ferdig, skjer med viskelæret. Viskelæret er en stor, uformelig blå masse, formet av hånden som visker; tegnehånden som både skaper og utsletter. Hun befinner seg midt i tegnestøvet, redusert til en dverg under forstørrelsens regime, og kan se ørsmå flekker ansikt til ansikt. Mary Shelleys Frankenstein eller en golem: Hun puster liv til støvet. Visker vekk usynlig tegn på «livløshet» fra flekker i lysbrunt, sort, bassengblått og et rødt som på kokte krabbeskjell. Fargene er valgt av alle andre årsaker enn estetisk, de tilhører kunstverkenes arvestoffer, som stråblekt hår og slanke lemmer karakteriserer kunstneren.
En filmframviser står midt på et bord, troner som en hesteskulptur på en fornem plass i en hovedstad. Selve filmen får jeg denne gangen se på selv, og blir automatisk både framviser og tilskuer. Jeg holder filmrullen opp mot lyset, mens Ane Mette forklarer, som fortellerstemmen i en tenkt spillefilm. Motivet er himmelstormende enkelt: Kunstnerens fingeravtrykk på filmrullen. Å holder bildene opp mot lyset gir den samme følelsen som å se Kubricks hominini, menneskeapen, i sinne kaste en knokkel mot himmel, som ved et kosmisk tidsklipps trylleslag «blir» et romfartøy og bringer oss inn i framtiden. Dette er When Identy Remains Abstract fra 2016.
Det er så enkelt at det er vanskelig å forklare. Kunstneren, Ane Mette Hol, har tegnet, ved å skrape av emulsjon, sitt eget fingeravtrykk på selve filmen. Og med det stiller hun spørsmålet, hva er et fingeravtrykk? En signatur, et selvportrett og et tegn på individualitet? Eller det klassiske «sporet» i forbrytelsens nomenklatur?
En tegning av en konvolutt og en adresselapp, identisk kopiert, med hennes egen adresse tegnet midt på den perfekt kopierte konvolutten kan lede tanken både til forbryteren og, igjen, til Velázquez – for det er et velkjent trekk i klassisk maleri å benytte seg av brev, ark, kontrakter eller andre dokumenter plassert i modellens hånd, til å plassere sin egen signatur. Som om en korrespondanse mellom oss selv og det fremmede andre kan skapes via navnetrekket, mellom hennes Reproduction of an envelope fra 2023 og Velázquez Felipe IV de castaño y plata avsluttet i 1635, adresselappen og den spanske malerens sjeldne signatur på egne verk.
Hånden, ikke bare fingeravtrykket, dukker opp i en annen film, av nyere dato. Og kanskje forklarer ulykken kunstnerens fascinasjon for hånden som motiv; det vil si, røntgenbildet av hånden, håndens indre, nær ødelagte liv, både som tegning og hovedpersonen. Både tegningen og filmen er basert på en E-scan av Hols høyrehånd. Eller Female Right Wrist, som laboratoriet sier, hvilket også ble tittelen på verket (fra 2023).
Bildets opprinnelse ligger i en smerte Ane Mette Hol ikke ble klok på, kanskje en frykt for å miste tegnehånden.
Plastarket med røngtenbilder er makulert for hånd, og gitt en filmrulls bredde. Denne ble igjen kjørt gjennom en Catozzo 16 mm film splicer, en liten maskin fra den gang man hadde klippebord. Tre ark med røntgenbilder ble til sammen 30 meter film, som går i loop og viser høyrearmens innside, og vi ser gjennom benet, eller inn i benet. Nesten som fugleperspektiv.
I Las meninas ser vi Velázquez, med penselen i høyre hånd, og den skråstilte paletten i den venstre, som maleriet virkelige sentrum. Ane Mette Hol har redusert dette metaperspektivet ytterligere i hvordan høyrehånden både er motiv og redskapet som utfører handlingen. Hånden har blitt opphøyd til motiv, og har dermed blitt skilt fra sin søsterhånd, venstrehånden, som innenfor atelierets fire vegger har hatt en helt annen status.
Høyrehånden tegner og tegnes, mens venstrehånden, lik en anakronistisk, hjemmeværende 1950-tallets husmor, må støtte og applaudere den hardt arbeidende, kanoniserte høyrehånden.
I dialog med den faktiske røntgenbildene, som sendes gjennom fremviseren, har Hol tegnet E-scan'ene som skildrer hånden motsatt vei, snittet på tvers, ikke som i filmen, på langs. Til sammen 15 tegninger, som alle har det til felles, at de ikke ga noe svar på hvorfor hun hadde vondt, annet enn at vi, som legene og kunstneren selv, kan forestille oss at det har med hennes virke som kunstner å gjøre.
Ane Mette Hol snakker mens hun tegner, forsvarer venstrehånden.
«Jeg er nesten like avhengig av venstre - men den har kanskje ikke samme betydning, ei eller opphøyd, fordi den ikke er dominant.
«Det var heldigvis venstre hånd» sa folk til meg, noe jeg også selv tenkte selvfølgelig, men jeg er nesten like avhengig av venstrehånden, men den har ikke samme opphøyde status».
Tingenes orden av Michel Foucault er en skildring av mennesket som «en bivirkning av den moderne verdens omorganisering av erkjennelsen».[2]
Ane Mette Hols kunstnerskap kan ses i lys av Foucaults analyse, det er kunstverk som i direkte forlengelse av den franske filosofen, får «den tusenårige håndhevelsen av skillet mellom det Samme og det Andre til å vakle». Hos henne går vi mer og mer i ett med tingene rundt oss, og deres maskinskapte presisjon gir oss tilskuere en fornemmelse av å være vage, ubestemmelige, fanget av kunstneren på et punkt i historien der det er usikkert om vi forsvinner eller gjenskapes.
Så må det legges til, for ordens skyld: Naturligvis er Ane Mette Hol en høyst levende konseptkunstner, hvis ideer er dypt forankret i samtidens tenkemåter og vår partikulære livsstil i Oslo, på Frysja, i atelieret, ved utkanten av den sivilisasjonstenkningen som på godt og vondt er vår. Hvilket, som jeg har forsøkt å vise, ikke betyr at eksempelvis barokken kan si noe spesifikt om hennes kunstnerskap på måter som ikke gjelder alle andre levende kunstnere.
Oslo, 3. september 2023
- Skrevet av Hans Petter Blad
---
Ane Mette Hol (Bodø, 1979) studerte ved Kunsthøgskolen i Oslo og Konstfack i Stockholm. Hennes seneste separatutstilling var "Becoming (working title)" på Museum moderner Kunst Stiftung Ludwig Wien (mumok) i 2021. I 2020 hadde hun separatutstilling på OSL contemporary. I 2022 deltok hun i utstillingene "(Everything Is) Not What It Seems" på Nitja senter for samtidskunst, of "Austerlitz" på A Tale of A Tub i Rotterdam. Hol er innkjøpt av blant annet Nasjonalmuseet for Kunst, Arkitektur og Design, Oslo; KODE, Bergen; Kistefos Museum, Jevnaker; Trondheim kunstmuseum, Trondheim; Sørlandets kunstmuseum, Kristiansand; Städtische Galerie, Delmenhorst, Tyskland; Le Centre Pompidou, Paris; and mumok - Museum moderner Kunst Stiftung Ludwig Wien, Østerike. Hol's siste kunstnerbok "Drawing Literature", laget i samarbeid med designer Aslak Gurholt, ble publisert i 2020 av Hatje Cantz forlag.
Hans Petter Blad (Oslo, 1962), skriver romaner, poesi, skuespill og essays. Han jobber for tiden med en sakprosabok om de 503 dagene August Pinochet tilbrakte i husarrest i Storbritannia og en roman om dressur og ridekunst.
[1] Élie Faure, L'histoire de l'Art, L'art Modern, pp. 128-132, translated from French to this text.
[2] The quotation is from the dust jacket of the Norwegian version of the book, a remarkably rich text likely written by the book's translator and author of the afterword—Knut Ove Eliassen—a rhapsody on the afterword, virtually an essay in its own right. The Norwegian translation was published by Aventura Forlag in 1996, and the original in French by Gallimard, 30 years earlier under the title Les mots et les choses, which translates to The Words and Things. Foucault's own "foreword" in this voluminous book is about Las meninas and can be characterized as a sublime contemplation of the world's most famous gaze.
---
[1] Élie Faure, L'histoire de l'Art, L'art Modern, s. 128-132, oversatt fra fransk av Anne Oterholm i all hast, spesielt til denne teksten.
[2] Sitatet er hentet fra bokens smussomslag, en forbløffende rik tekst antakeligvis skrevet av bokens oversetter, og etterordsforfatter Knut Ove Eliassen, en rapsodi over etterordet, og nesten et essay i seg selv. Boken er utgitt på Aventura Forlag i 1996, og originalen på fransk på Gallimard, 30 år tidligere. Da under tittelen Les mots et les choses, altså Ordene og tingene. Foucault egen «fortekst» i denne omfangsrike boken handler om Las meninas, og kan karakteriseres som en sublim betraktning av verdens mest berømte blikk.